Milton's cross country time trial race sees best ever marks on the home course
By Andy Carr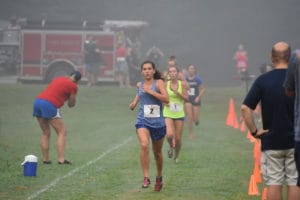 The Eagle cross country teams opened up their 2017 season with the annual time trial race on Milton's very difficult home course but saw the overall course record substantially broken and help set the varsity & JV squads for the team's first meet later this month.
GIRLS
The Lady Eagles time trial race was a very competitive affair that saw the first 6 girls finish within 59 seconds. Leading the charge was sophomore Abby Rindt (1st-21:48) who led from the start and was never seriously challenged. Junior Taylor Cushman (2nd-22:14) followed and led a tight group of finishers that included seniors Annie Gallagher (3rd-22:31) & Jessie Barnes (4th-22:36), along with junior Faith Wagner (5th-22:39) & senior captain Emily Bowers (6th-22:47). Over 100 finishers were recorded.
BOYS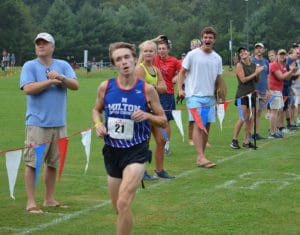 History was made on the Eagle home course as defending state champion senior Sam Bowers (1st-16:39) pulled away from early leader senior Nicholas Yanek (2nd-16:46) just after the 4 kilometer mark to set the all-time best performance ever at the state's most difficult venue.  Yanek's performance is now the 2nd best ever on the course as the previous course record was 17:07 (Bowers, 2016). Bowers, who is also the defending state 3200 meter track champion, was presented his state championship rings during the team's award ceremony following the races.  Senior Michael Malkowski (3rd-17:28) led a string of seniors to the finish line with Ryan Beitzell (4th-17:37) & Dru Milton (5th-17:41). Dru Milton's finish time now puts him 7th all-time among Milton runners on the home course.  There were close to 100 finishers in the boy's race.
Next up for the Milton High School cross country teams is the Zack Wansley Cross Country Clash at Clinton Farms Park in Douglasville, GA on Saturday, August 19th.