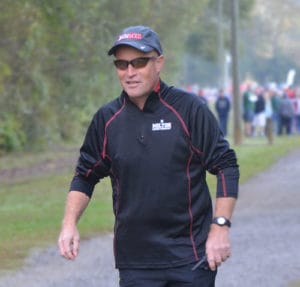 On January 4, 2018, Milton XC's Coach Andy Carr was named 2017 USTFCCA High School XC Coach of the Year for the State of Georgia.
One boys coach and one girls coach from each of the 50 states and the District of Columbia were honored for their successes during the fall of 2017, as selected by a committee of experts from around the nation. State-by-state winners were selected based on their teams' performances throughout the 2017 cross country season. Among the factors taken into consideration were team score and placement at the state championships, margin of victory, performance against rankings if available, individual championships, and how their teams' performances stacked up to previous years (e.g. first title in school history, consecutive titles, etc.).
Each honoree receives a trophy from the USTFCCCA recognizing his or her achievements.
The winners from each state are in consideration for the association's National High School Cross Country Coach of the Year award. One boys coach and one girls coach from among all the states will be selected by a panel of experts and be announced in January 2018 as the national winners.
Excerpted from article originally published by USTFCCCA, written by Tyler Mayforth, 04 Jan 2018. For the entire article and the state-by-state winners, see http://www.ustfccca.org/2018/01/featured/2017-ustfccca-high-school-cross-country-coaches-of-the-year